Imagine a world where you walk around and all of the tech and energy sources you see include solar panels on every roof, wind turbines in the distance off the shore, the soft whine of electric vehicles, and pollution-free deep breaths of air everywhere you go. Sounds like a far-off dream, right?
Not quite.
In 2013, renewables (solar, wind, hydropower, etc.) generated 13% of energy in the U.S.
Yet just 10 years later, we're set to double that and hit 24% by the end of 2023, and 26% by the end of 2024!
A quarter of all U.S. energy production is a big deal. As renewable generation increases, get what decreases? Coal and natural gas. Meaning every percentage point increase goes further than you realize in reducing pollution, smog, and greenhouse gases.
Most of this increase is thanks to solar and wind, which are astronomically better than oil and gas for the planet and our wallets.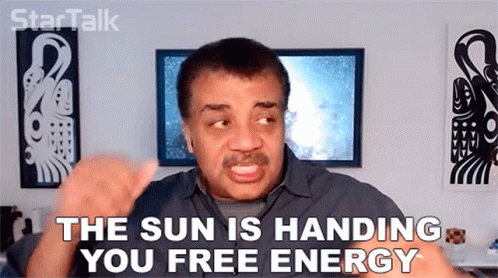 Pat ourselves on the back, because gas usage is likely to have peaked forever, and more attention is turned towards the negative impacts burning gas can have on the health of humans and the planet.
Best of all, despite renewables being pretty new, you can power your home with them right now (if you live in the U.S.). While I'm no expert, Wildgrid is. I met them in person at a climate event over the summer, and they were fun, energetic, and helpful to answer any and all questions I had about community solar.
If you're thinking about switching and need a little push; rumor has it that all the cool kids use solar 🤷‍♂️.